PwC's Academy
Start your ESG journey with PwC's Academy
What is ESG?
Environmental, Social and Corporate Governance (ESG)  is a sustainable approach to doing business, acting as a guiding framework for organisations to build better strategies in line with the needs of all stakeholders. In the last couple of years, ESG has rapidly gained momentum and climbed at the top of the agenda of various organisations as public consciousness on global issues such as climate change, pollution, water and food crises, modern slavery, poverty, inequality, and conflicts have increased.
In the last few years, companies have started to invest in creating long-term strategies that include the ESG dimension. ESG reporting, requiring companies to disclose information, data and metrics that detail the business impact and the added value in all three areas of the ESG, has become mandatory by the European Union, asking companies to start reporting as per the Corporate Sustainability Reporting Directive (CSRD) beginning in 2024. The ultimate aim is to have organisations and businesses actively contribute to the well-being of society and the environment. 
Our Learning Solution
Our comprehensive ESG learning journey (displayed below) gives you the opportunity to upskill yourself in the area of ESG, starting off with online self-paced eLearns, subsequently moving on to the Comprehensive ESG Programme constituting nine (9) face-to-face CPE sessions, and then specialising in ESG Investing.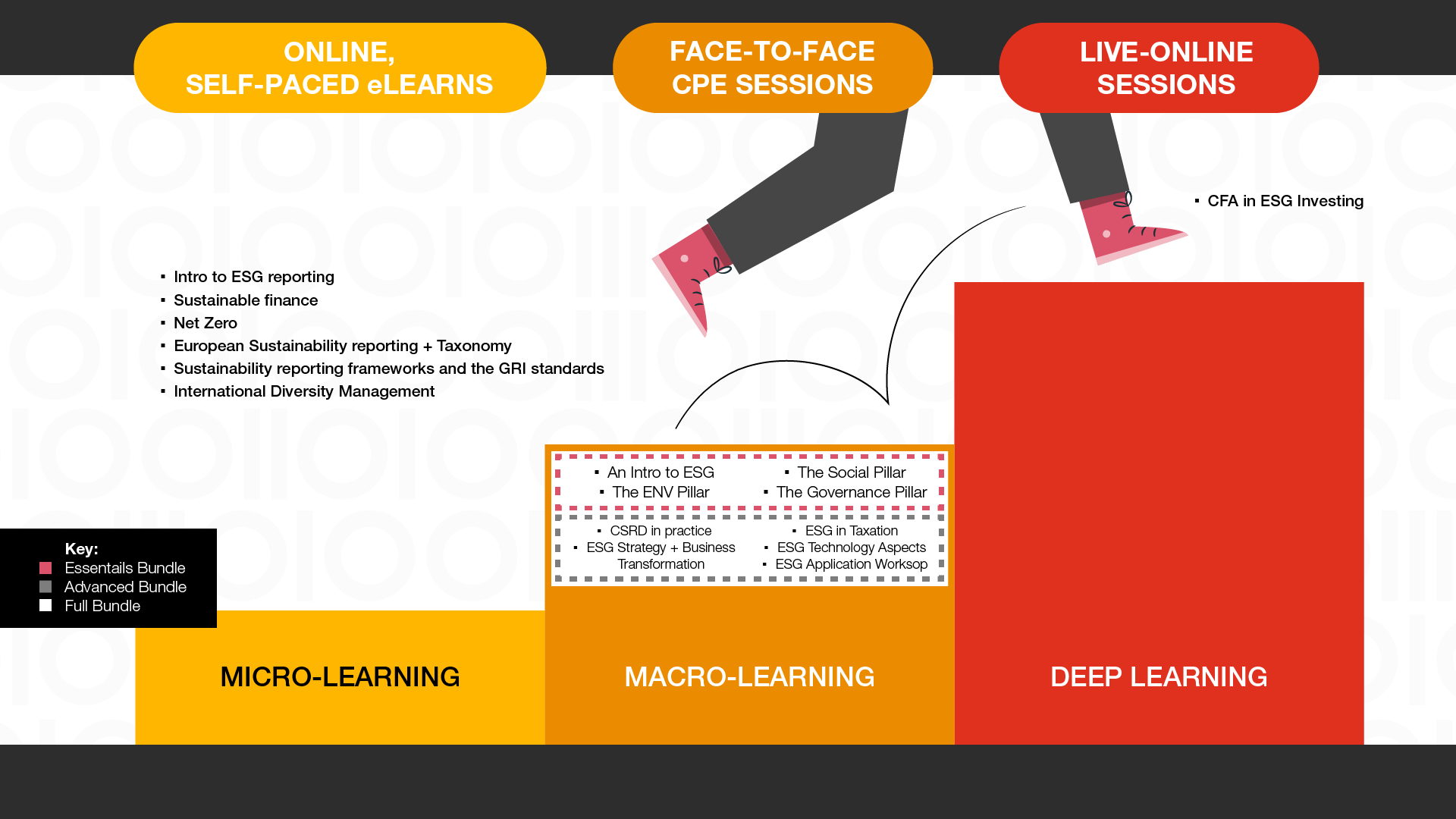 Why invest in ESG courses and certifications
In an effort to drive the ESG agenda, companies are increasingly investing in their employees to develop common values and instil corporate sustainability into the company culture. One way of investing is through training and learning about ESG. PwC's Academy offers a diverse portfolio of learning and training solutions ranging from self-paced eLearns for the wider audience, to interactive face-to-face sessions led by ESG professionals as well as recognised certifications in ESG. By investing in ESG training, companies and business not only appear credible and attractive to investors and customers, but might also be a catalyst in creating the need for new ESG jobs such as those of a Chief Sustainability Officer, ESG Officer, ESG consultant, ESG Advisor, ESG Analysts and similar.
Discover our Sustainability Services